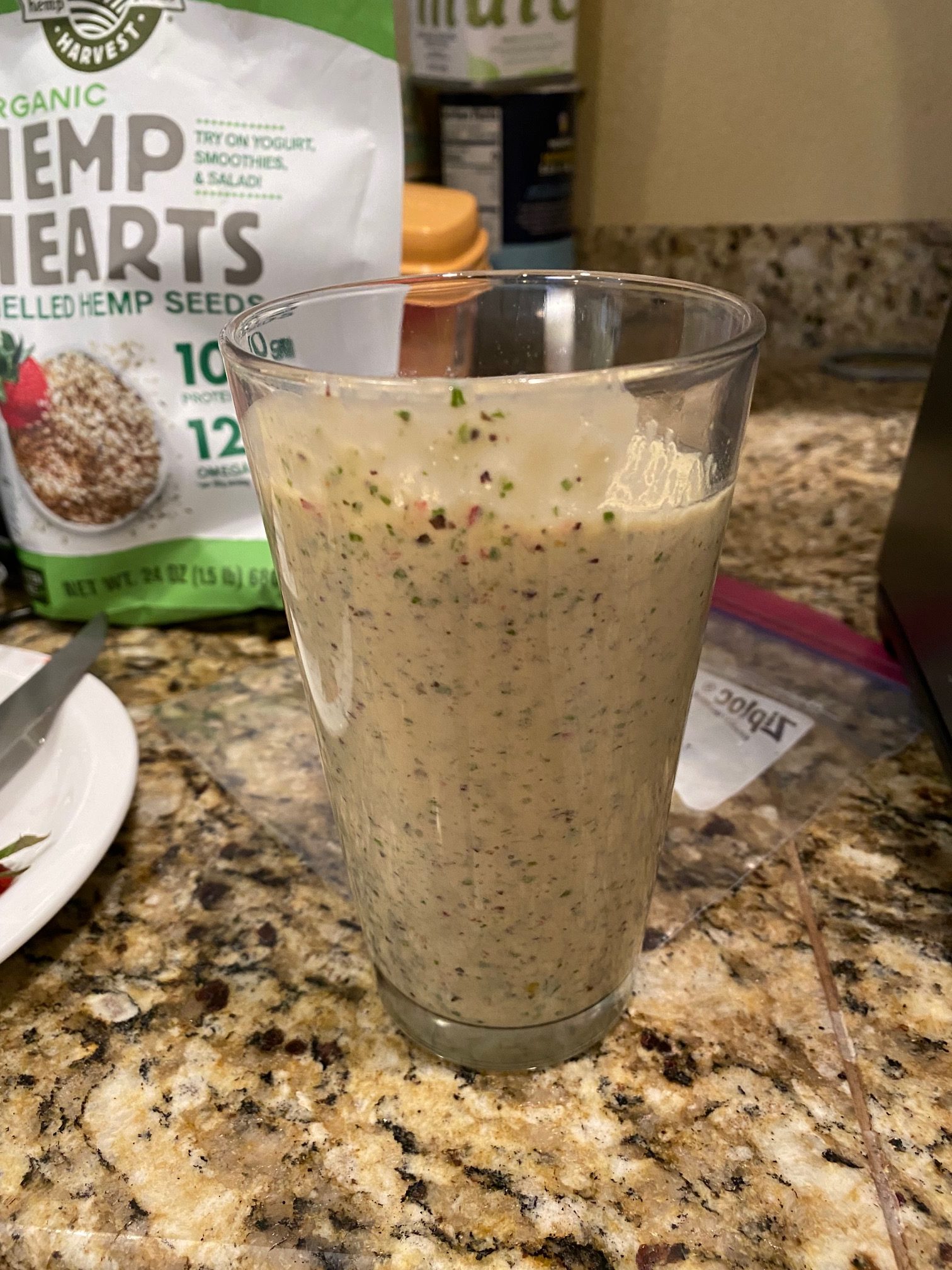 When I grew up in Kentucky and well into my late 30s I thought eating healthy was having one bite of a vegetable once a week.  I remember going to the Brazilian steakhouses that have the green light / red light token indicating on if you want more meat.  These places have amazing salad bars and sides and when you have all you can eat steaks that seemed like a complete waste to fill up on that.  That is pretty much how I treated every meal mainly because vegetables did not taste as good in my opinion.
Over time and with 3 kids and a busy job I slowly started putting on weight.  I will write a specific blog post on that but for now one of the keys was for me to find ways to eat vegetables.  My wife Emily has always been interested in eating healthy and trying healthy foods like Acai bowls and other things.  We would blend up the Acai bowls in the blender and I thought they were ok but one day for a reason I can't fully remember I decided to try putting some mixed green salads in the blender and after some experimentation I arrived at the green smoothie.
To me it actually tasted pretty good and reminded me of my college days going to the gym  to play basketball and going to get strawberry / banana smoothies afterwards.  It was a fun reward then and I was surprised at how much it filled me up.  I don't get a food coma afterwards and now whenever I can I try drink a green smoothie for lunch and it has helped me lose weight 😊
Ingredients –
50/50 kale, spinach, salad mix. We tend to get it from Whole Food or Target based on where we are shopping that day.  This is the main ingredient and I add it first until the blender is pretty full.  If you want to start smaller you could fill up a salad bowl and dump that in.
Milk – I add it to the 1st line in the blender. You can add more milk, could add ice cream, or substitute oat milk, water etc.
Fruit – My traditional is strawberries, apple, and bananas but I have had fun experimenting with other flavors including dragon fruit (turns it more pink), mangos, mixed frozen berries, pineapple, watermelon, etc.
Hemp and Chia seeds (Optional). We had some of these from the Acai bowls and I think they are good for you so when I remember I add them
If you add enough fruit it actually can be other colors like pink and purple. Here is one that was heavier on the fruit –
Note there is still a lot of green before it was mixed 🙂
When I make it I usually have some leftovers to I give it to the kids and have experimented with freezing it and putting it in the fridge.  It never tastes as good as it does fresh but I lean towards storing in the fridge for up to a few days as the best way to keep leftovers.
So give it a try sometime and let me know what you think 🙂  It is even kid approved and you know how picky kids are 🙂